- Sagesse Orthodoxe - https://sagesse-orthodoxe.fr -
Apostolia n°33 – décembre 2010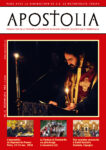 [1]A la une :
Assemblée générale du Doyenné de France
Paroisse de Romainville au pélerinage de Jérusalem
Une semaine consacrée à Saint Nectaire – Coslada Espagne
---
Article printed from Sagesse Orthodoxe: https://sagesse-orthodoxe.fr
URL to article: https://sagesse-orthodoxe.fr/jaimerais-savoir/questions-dactualite/a-ne-pas-manquer/apostolia-n%c2%b033-decembre-2011
URLs in this post:
[1] Image: http://www.sagesse-orthodoxe.fr/wp-content/uploads/2011/10/apostolia-nr33-dec2010-cover1-FR-copy.jpg
Click here to print.
Copyright © 2011 Sagesse Orthodoxe. Tous droits réservés.